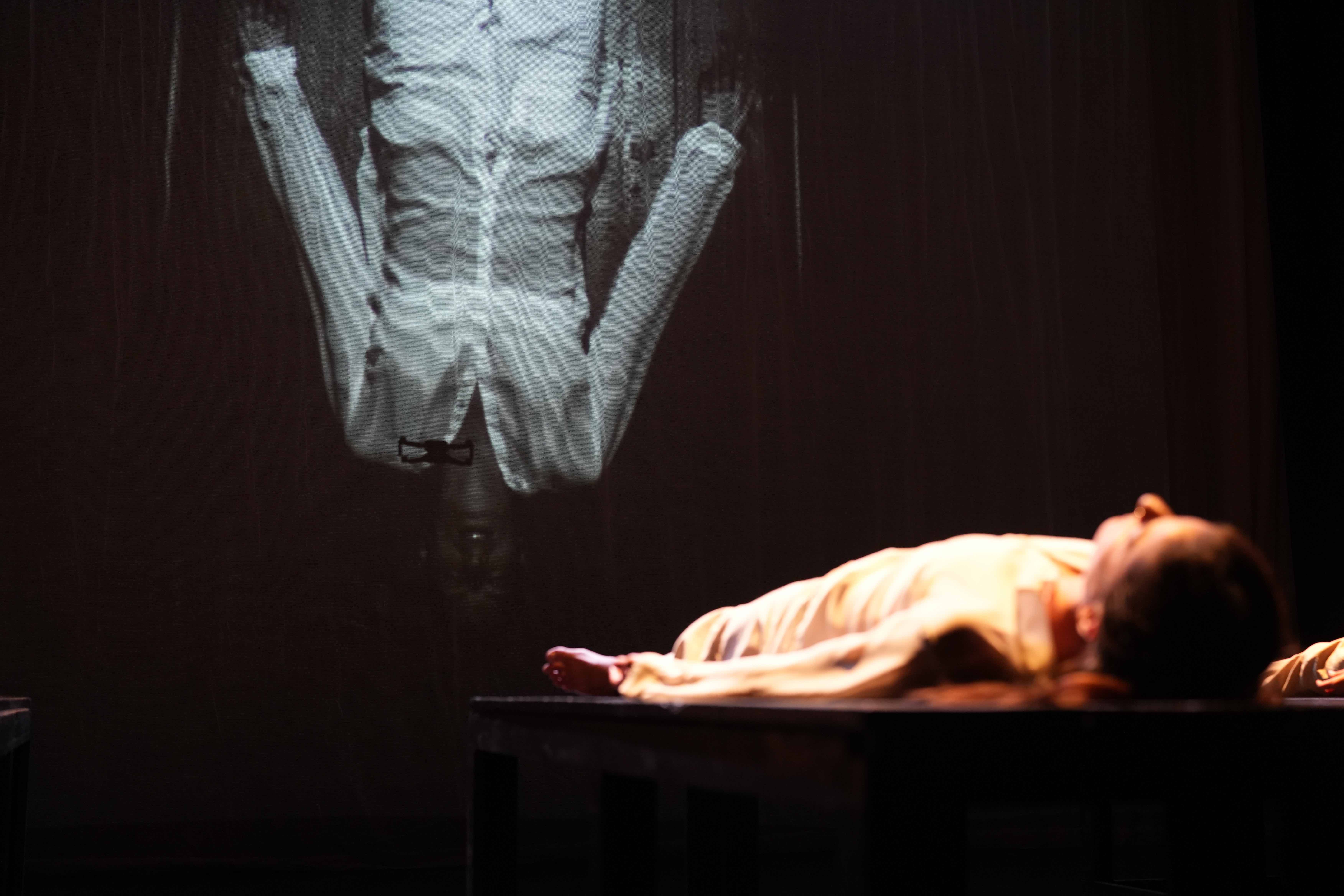 Compagnia Menhir Danza
LAZARUS SERIAL VERSION
indoor edition
credits
progetto e coreografia/project and choreography
GIULIO DE LEO
con/with
ERIKA GUASTAMACCHIA
musiche di/music by
MOBY
disegno luci/light design
ANTONIO LONGO
cura del progetto/project care
MARINA PESCHETOLA
video e foto/video and photos
SARA NAPOLETANO
produzione/production
COMPAGNIA MENHIR DANZA/LE DANZATRICI en plein air 2022
co-produzione edizione outdoor
HANGARTFEST 2022 - Pesaro
co-produzione edizione indoor
TEATRO PUBBLICO PUGLIESE
nell'ambito del progetto "HERMES Increasing - HERITAGE REHABILITATION AS MULTIPLIER CULTURAL EMPOWERMENT WITHIN SOCIAL CONTEST", FINANZIATO DAL PROGRAMMA DI COOPERAZIONE TRANSFRONTALIERA
INTERREG V/A GRECIA-ITALIA 2014-2020"
scheda/artistic sheet
LAZARUS serial version, è una performance ispirata alle pratiche di CURA e RINASCITA, progettata da Giulio De Leo e sviluppata in stretta collaborazione con Erika Guastamacchia. Nel lavoro una serie di corpi adagiati su tavoli e ravvivati dalla danza diventa il fulcro identitario per la nuova comunità di pubblico che si raccoglie a vegliare su di essi. LAZARUS serial version riflette sulla capacità del movimento di rigenerare il corpo a partire dagli atti vitali fondamentali, secondo una logica organica di ascolto e integrazione.
Nell'edizione indoor il progetto approfondisce la riflessione sull'atto del ri-nascere e dell'essere chiamati a ri-sorgere attraverso l'indagine del rapporto fra performer e demiurgo, umanità e alterità, corpo e luce. La messa in scena vede infatti la proiezione sul fondale di immagini riprese in diretta da un drone, che "incarna" idealmente l'entità trascendente capace di riportare in vita i corpi. Uno sguardo robotico, che invita l'uomo a prendersi cura di sé. L'unica via possibile per la rinascita della comunità.
Dopo il debutto dell'edizione outdoor a ottobre 2022 a Pesaro nell'ambito di HangartFest, LAZARUS serial version approda al debutto dell'edizione indoor grazie al sostegno del Teatro Pubblico Pugliese nell'ambito del progetto "HERMES Increasing - HERITAGE REHABILITATION AS MULTIPLIER CULTURAL EMPOWERMENT WITHIN SOCIAL CONTEST", FINANZIATO DAL PROGRAMMA DI COOPERAZIONE TRANSFRONTALIERA INTERREG V/A GRECIA-ITALIA 2014-2020". Tale supporto ha permesso di sviluppare nel mese di Novembre 2022 la produzione dell'adattamento per spazi teatrali presso il Teatro Sociale di Fasano e presso il TEX-Il Teatro dell'exFadda di San Vito dei Normanni.
Lo spettacolo nasce, già nell'edizione outdoor, come processo di creazione modulare (cioè con un numero di interpreti variabile), in dialogo con gli spazi convenzionali (teatri e sale) e non convenzionali (spazi pubblici) e con le comunità (di professionisti e di amatori, che è possibile portare in scena attraverso la realizzazione di laboratori coreografici intensivi). È questa sua apertura e modularità ad aver permesso di articolare le anteprime realizzate a Fasano e a San Vito dei Normanni in due modalità differenti, dipendenti dalla dimensione degli spazi scenici e dalla identità culturale propria dei luoghi teatrali che hanno ospitato l'opera. A Fasano il progetto è stato presentato con il cast principale della Compagnia Menhir, composto dalle danzatrici Erika Guastamacchia, Claudia Gesmundo e Gabriella Catalano. A San Vito dei Normanni è stato presentato in due repliche e ha visto in scena oltre ad Erika Guastamacchia anche due cast composti da 16 giovanissimi partecipanti che hanno frequentato un laboratorio intensivo di tre giorni condotto da Giulio De Leo ed Erika Guastamacchia.
LAZARUS serial version, is a performance inspired by the practices of CARE and REBIRTH, designed by Giulio De Leo and developed in close collaboration with Erika Guastamacchia. In the work, a series of bodies lying on tables and enlivened by dance becomes the identity fulcrum for the new community of audience that gathers to watch over them. LAZARUS serial version reflects on the ability of movement to regenerate the body starting from the fundamental vital acts, according to an organic logic of listening and integration.
In the indoor edition, the project deepens the reflection on the act of re-birth and of being called to re-arise through the investigation of the relationship between performer and demiurge, humanity and otherness, body and light. In fact, the staging sees the projection onto the backdrop of images taken live from a drone, which ideally "embody" the transcendent entity capable of bringing bodies back to life. A robotic gaze, which invites man to take care of himself. The only possible way for the rebirth of the community.
After the debut of the outdoor edition in October 2022 in Pesaro as part of HangartFest, LAZARUS serial version makes the debut of the indoor edition thanks to the support of TEATRO PUBBLICO PUGLIESE in the framework of the project "HERMES Increasing - HERITAGE REHABILITATION AS MULTIPLIER CULTURAL EMPOWERMENT WITHIN SOCIAL CONTEST", FUNDED BY THE INTERREG V/A GREECE-ITALY 2014-2020 CROSS-BORDER COOPERATION PROGRAM". This support made it possible to develop in November 2022 the production of the adaptation for theatrical spaces at the Teatro Sociale in Fasano and at the TEX-Il Teatro dell'exFadda in San Vito dei Normanni.
The show was born, already in the outdoor edition, as a modular creation process (i.e. with a variable number of performers), in dialogue with conventional (theaters and halls) and unconventional (public spaces) spaces and with communities (of professionals and amateurs, which can be staged through the creation of intensive choreographic workshops). It is this openness and modularity that has made it possible to articulate the previews made in Fasano and San Vito dei Normanni in two different ways, depending on the size of the scenic spaces and the cultural identity of the theater places that hosted the work. In Fasano the project was presented with the main cast of the Compagnia Menhir, made up of dancers Erika Guastamacchia, Claudia Gesmundo and Gabriella Catalano. In San Vito dei Normanni it was presented in two performances and saw on stage in addition to Erika Guastamacchia also two casts made up of 16 very young participants who attended an intensive three-day workshop conducted by Giulio De Leo and Erika Guastamacchia.
preview - indoor edition - full video preview - process of creation - HERMES

| | | |
| --- | --- | --- |
| coreographer and company | partners | photos |