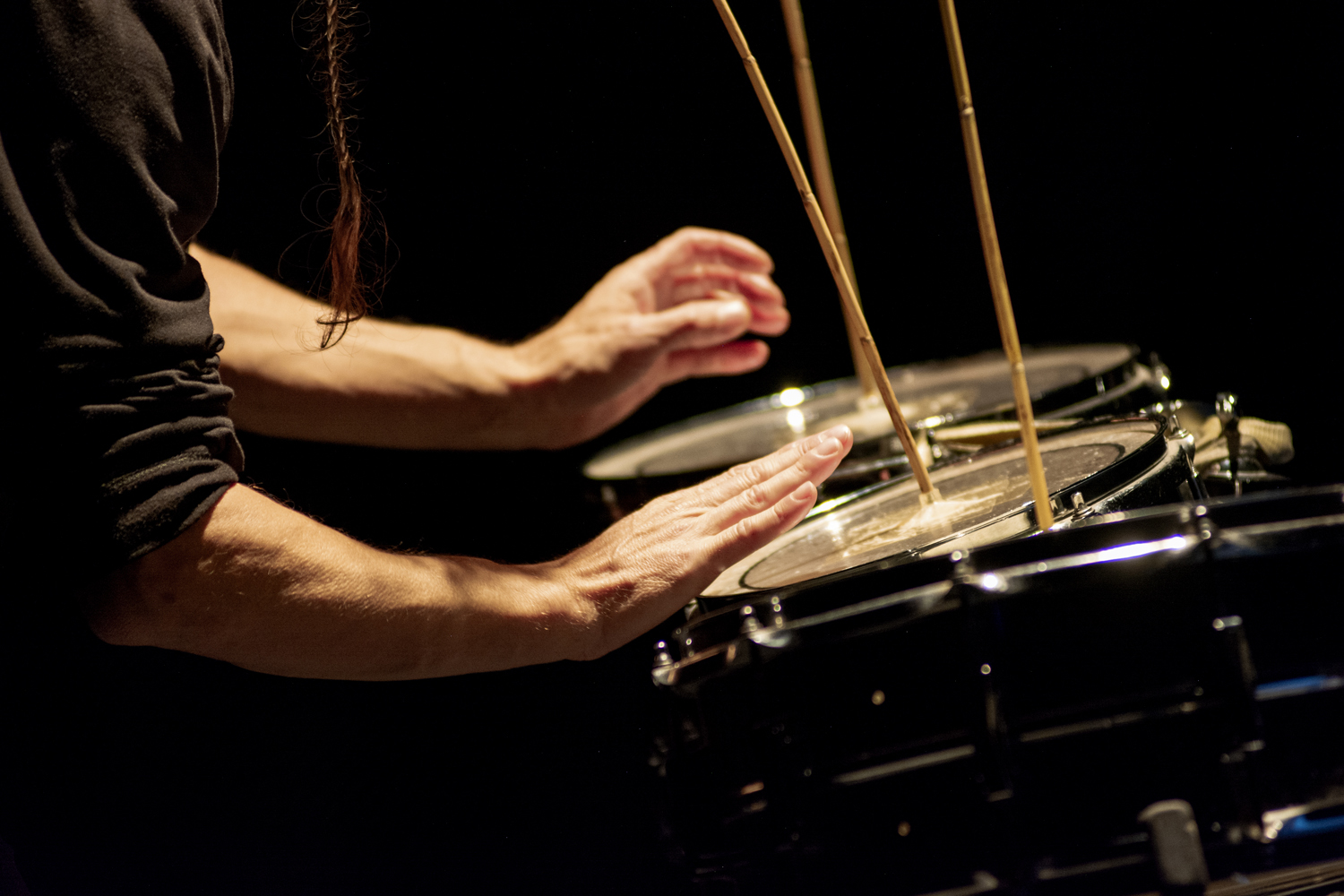 PINO BASILE
Diplomato a Matera in Strumenti a Percussione, conta esperienze musicali di vario tipo in campo jazz, classico e contemporaneo, teatro musica, danza, circo contemporaneo. Da qualche anno è impegnato, come concertista e come didatta, nello studio e nella ricerca dei tamburi a cornice e a frizione della cultura popolare dell'Italia meridionale e di tutta l'area mediterranea. L'intento è di diffondere le peculiarità di strumenti considerati "non colti" in più ambiti artistici possibili.
Ha ottenuto l'attenzione di compositori contemporanei italiani e stranieri eseguendo partiture solistiche e improvvisazioni con formazioni orchestrali, big band, ensemble di musica contemporanea, elettronica e con musicisti e gruppi anche extraeuropei con registrazioni discografiche ed esibizioni in importanti festival e teatri in Italia e all'estero.
Ha all'attivo numerose collaborazioni con produzioni e coreografi come musicista/performer e come consulente e autore musicale. Svolge attività didattica con scuole di circo, conservatori e scuole di vario ordine e grado attraverso laboratori e seminari musicali sull'uso del sistema ritmico indiano. Il variegato percorso artistico è documentato con un'ampia discografia tra collaborazioni e produzioni realizzate.
He graduated with a degree in Percussion Instruments from the Conservatory of Music of Matera, studying under the Maestro Giovanni Tamborrino. Since then, he had a vast array of musical experiences in varying styles in the area of Jazz, Classical and Contemporary Music, Musical Theater, Dance and Contemporary Circus. For the last few years Pino has been busy doing concerts, teaching, researching and studying the traditional, folk - frame drums and friction drums of Southern Italy and the entire Mediterranean region. His mission is to teach people about the peculiarities of these so-called "unsophisticated" instruments and to share his passion and diffuse his knowledge in as many artistic circles as possible. In fact, as a "tambourine player", Pino has already drawn the attention of contemporary Italian and foreign composers (in particular, Riccardo Nova, ed. Ricordi) executing solo scores and improvisations with orchestras, big bands, ensembles of contemporary music, electronic and with groups and musicians of various nationalities, with studio recordings and performances at festivals and theatres throughout Italy and abroad. Pino has collaborated with Giorgio Barberio Corsetti, Akram Khan, Roberto Olivan, Loris Petrillo Danza, Cie Twain, Menhir, Fabbrica C (Italy), Ruspa Rocket. In the area of acrobatic arts and the Nuovo Circo, he collaborate both as teacher and music writer, with the school of circus Flic of Turin (Italy) and Codarts circus of Rotterdam (Holland).
GIUSEPPE DORONZO
Focalizza la sua ricerca sul saxofono baritono, esplorando un vocabolario che fonde la sua formazione in musica classica, contemporanea, jazz e il suo interesse nella musica indiana e ottomana. Vive ad Amsterdam, dove ha fondato la sua etichetta discografica T ora Records e lavora come musicista e compositore in progetti stabili come Solo, AVA Trio, Michael Moore Bigtet, All Ellington, Raoul van der Weide XPE.
Ha svolto attività didattica, coaching e workshop in Olanda (Conservatori di Amsterdam e Groningen), Italia (fondazione Ticonzero), Turchia (Marmara university) e Stati Uniti (New York University).
Si è esibito in importanti festival internazionali in Asia, Europa e Stati Uniti collaborando con un ampio spettro di musicisti e improvvisatori fra i quali: Michael Moore, Joe Lovano, Vince Mendoza, Mariem Hassan, Chris Potter, Han Bennink, Paolo Fresu, Matt Wilson, Taylor Ho Bynum, Steve Potts, Ralph Alessi, Lothar Sthal, Irene Aebi Lacy, Robin Eubanks, NDR Bigband, Joao Bosco, Jim Black.
Giuseppe Doronzo is an Italian saxophonist and composer. As lover of unexplored space, border crossing sounds, Giuseppe focuses his research on the baritone saxophone, aiming to explore a vocabulary that goes through his background in contemporary classical music, jazz improvisation and his interest for non-western music.
He began studying classical saxophone at the "N. Piccinni" Conservatory in Bari, where he graduated in 2009. In 2011 he obtained "Master on Saxophone" in classical contemporary music, as soloist at the "N.Rota" Conservatory in Monopoli. In 2012 he moved in Holland to study jazz, at Prins Claus Conservatory in Groningen, with Michael Moore, Miguel Martinez, Kurt Weiss, Steve Altenberg, David Berkman, Robin Eubanks, Alex Sipiagin, Freddie Bryant, where he graduated Cum Laude in 2015.
In 2018 he founded his record label Tora Records, where he released his acclaimed solo album "GOYA" the same year. He recorded a solo piece for the Dutch dancer and choreographer Cora Bos-Kroese titled "Two ways towards", that was performed at the New York University (NYC). He can be seen among his current projects as Solo, Falga, AVA Trio, Aterraterr, Michael Moore Bigtet, All Ellington, Raoul van Der Weide XPE. Giuseppe's work has been supported by grants from the Sena Fund and Performing Art Fund of The Netherlands.